Stitch with SACSS
'Stitching their destiny with SACSS support'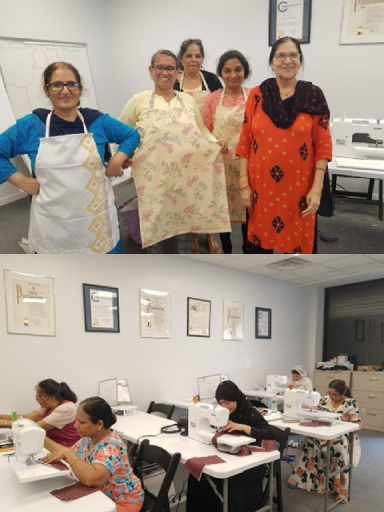 In July 2023, the SACSS Women's Economic Independence Program launched an exciting initiative called 'Stitch with SACSS.' And the beaming women's faces as they stitched their first apron is testament to this mindful and simple program.
The Stitch with SACSS program aims to empower immigrant women, including those from South Asian and AAPI communities, by teaching them the skill of sewing and offering work-from-home opportunities.
The goal is to help these women become financially independent by equipping them with a trade skill that they can use to earn income from the comfort of their homes. After completing the training, each woman will receive a sewing machine to start her own home-based sewing business.
This program addresses two important needs. Firstly, it provides a flexible work option for immigrant women who want to earn money but face barriers like childcare responsibilities that keep them at home. Secondly, it caters to the demand for tailored clothing that meets cultural and ethnic preferences. Many people in our community require custom-made traditional clothing, but affordable tailors specializing in these garments are hard to find.
The training provided in Stitch with SACSS is culturally relevant and delivered by staff who understand the unique backgrounds of the participants. The program also connects women with other tailoring businesses, helping them find employment and build networks.
Home-based sewing and tailoring businesses have become popular income sources, especially considering the challenging post-pandemic economy. Immigrant women often sew their own clothes because it's difficult to find affordable tailors who can make culturally appropriate attire for daily wear. Stitch with SACSS aims to capitalize on the sewing skills that many South Asian and AAPI women already possess and transform them into successful home-based businesses with professional training and business development support.
Over the course of a year, Stitch with SACSS is going to train more than 60 women through four 10-week sessions. The training covers sewing, pattern making, fabric cutting, garment construction (from start to finish), and alterations – all the necessary skills to launch a home-based sewing business.
With Stitch with SACSS, immigrant women have the opportunity to stitch their own destinies, create successful businesses, and build a brighter future for themselves and their families.

Stitch with SACSS launched July 2023!