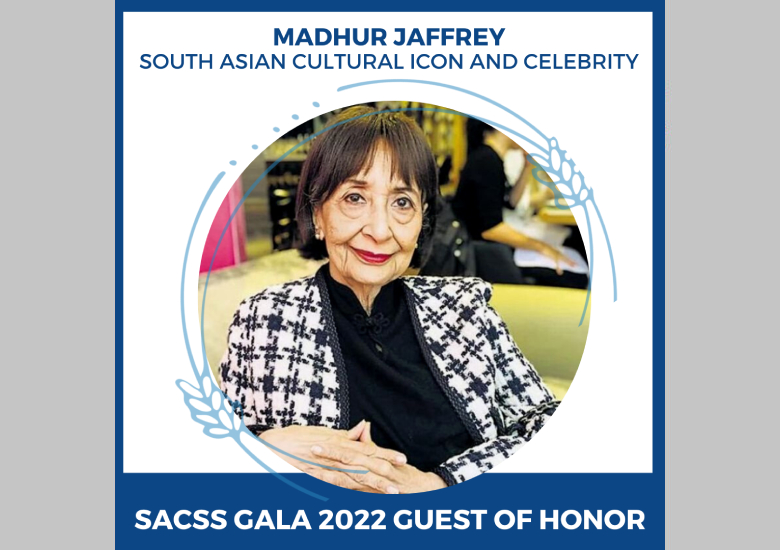 SACSS is truly delighted to announce that THE Madhur Jaffrey, incomparable South Asian cultural icon, will be an esteemed Guest of Honor our Gala 2022, "Celebrating Together, Striving Forward" on November 2nd. Jaffrey will present the SACSS' INNOVATOR IN #FOODYOUWANT AWARD to Chef Chintan Pandya and Roni Mazumdar of Unapologetic Foods. You know you don't want to miss this once-in-forever gathering!
Madhur Jaffrey is by far one of the most multifaceted Indian personalities to earn global distinction as a stage, film and television actor, journalist, illustrator, cookbook author, and food consultant and writer. With 29 cookbooks and a slew of cookery shows to her name, Jaffrey is often credited with bringing Indian cuisine to the western hemisphere, particularly with her debut cookbook, An Invitation to Indian Cooking, which was inducted into the James Beard Foundation's Cookbook Hall of Fame in 2006.
She has starred in several films, portraying strong, powerful characters – like herself – including Shakespeare Wallah, for which she won the Silver Bear for Best Actress award at the 15th Berlin International Film Festival. She has pulled off theatrical feats with her stage shows including The Guide, Conduct Unbecoming, and Bombay Dreams.
Her childhood memoir about growing up in India in the final years of the British Raj, Climbing the Mango Trees, was published in 2006. And, she was named Honorary Commander of the Order of the British Empire in 2004 in recognition of her services to cultural relations between the United Kingdom, India and the United State. This year, she was awarded the third highest civilian award, Padma Bhushan, from the Government of India.
Not enough can be said about cultural powerhouse Madhur Jaffrey who has striven forward for decades to represent all that South Asia has to offer and give to the world.
Join us and this extraordinary Guest of Honor in celebrating the South Asian spirit of striving forward at SACSS Gala 2022! Get your table or tickets here!