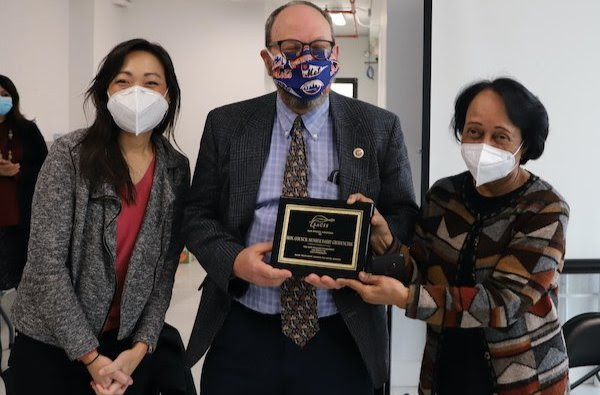 We hope you had a wonderful, safe, and happy holiday! As we approach the end of this year — a time of celebration, togetherness, and reflection — we want to thank the committed council members whose terms are ending on December 31, and who have offered our communities, and SACSS, invaluable support. During the last two years, as the pandemic has prevailed and SACSS has continued (even expanded) our services, we have received great support and encouragement from these council members — indeed we couldn't have done it without them!
Our deep gratitude to Council Member Peter Koo, for your steadfast and often unseen work to help the millions of immigrants who make their home in Flushing, and the rest of District 20! Your support of SACSS has made it possible for us to grow our services, and of course, grow into our new building space, which is so necessary during this time
Thank you Council Member Daniel Dromm for your unwavering commitment to our communities, for being a staunch supporter of SACSS, and for all your efforts to build a better future – for District 25, and all of Queens.
We were pleased to host outgoing Council Member Barry Grodenchik, and incoming Council Member Linda Lee at our Senior Center's holiday party and farewell to council members.
Many thanks to Council Member Barry Grodenchik: your service and dedication to District 23, and immigrant communities throughout Queens, has made working together all these years a true pleasure!
A great number of our clients come from your districts, and tell us of the empathy and care they've encountered, the same support we at SACSS have experienced with you. We wish each of you and your incredibly hardworking staff great success — and perhaps a little rest!