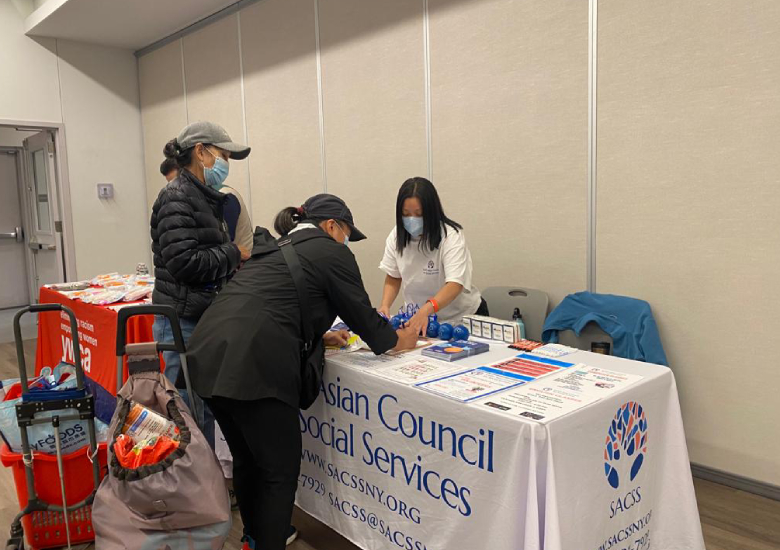 In October, the South Asian Council for Social Services (SACSS) participated in three community health fair events to inform community members about access to health insurance, mental health resources, and much more.
On Oct. 8, SACSS participated in Council Member Linda Lee's Health Fair at Alley Pond Park, where the SACSS team connected residents to health insurance and helped them navigate the healthcare system. At the health fair, residents participated in activities such as yoga and Zumba classes, followed by blood pressure screenings, adult and children health screenings, and more.
As Queens, also known as the 'World's Borough,' has welcomed newly arrived migrants and is providing them with the necessary services and resources as they seek refuge, SACSS is also doing its part to make sure they receive assistance.
On Oct. 14, SACSS Health Services Program Manager Geraldine Phillip represented the organization at Queens Borough President Donovan Richards' Immigrant Resource Fair held at Flushing International High School, where she shared information about SACSS' programs and services. During the event, immigrant Queens residents were connected to services provided by city agencies and local community organizations.
In continuing to assist immigrant families, SACSS Health Services Program Manager Maria Ariza, and SACSS Family Support Services Program Manager Peh Yong Teng, met and greeted community members on Oct. 26 at the Key to the City: A Family Resource Fair held at the Flushing Glow Community Center. Local community-based organizations shared resources covering health access, education, financial literacy, and counseling services.