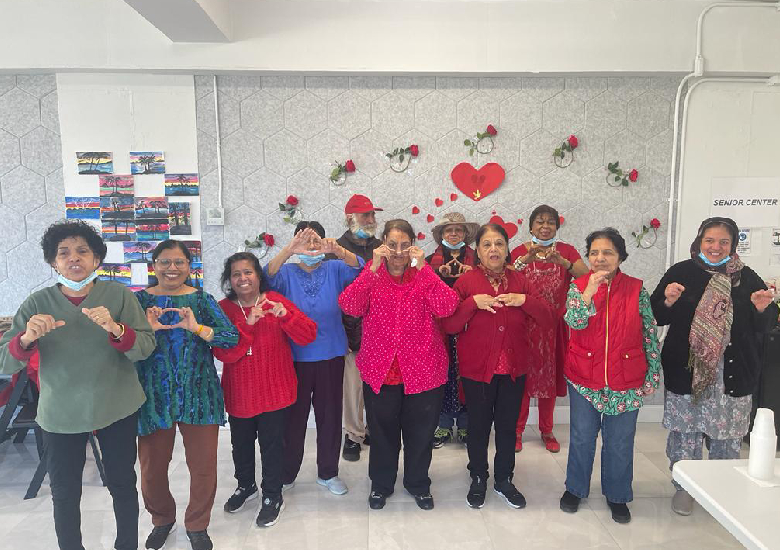 Valentine's Day week is just a sampling of the numerous events and activities taking place at SACSS' Seniors Center to ensure that our seniors are reminded – always – of how much they are loved and how important they are to all of us. We do our best at SACSS to keep our seniors engaged and active, with access to the best possible pathways to wellbeing we can offer.
Last week, in honor of Valentine's Day, our seniors were invited to celebrate love and togetherness at our Valentine's Day Celebration at the Seniors Center. We had so much fun and are thankful to our seniors for making this event (and so many others) so joyous!
Also, when one door closes, we make sure our seniors can dance through another! While our yoga teacher has been away this month, we asked our seniors to exchange their yoga mats for dancing shoes to discover the fun of salsa classes. And they sure showed us how this can be done! 
Of course, we don't want to forget our weekly Karaoke sessions! We could sing our talented seniors' praises all week long, but still wouldn't be singing better than they can! During Karaoke, they take center stage, belting out their favorite tunes. Karaoke is not only a very fun social activity but it also helps build confidence, improves memory, and vastly reduces stress. Then there was the day that our seniors spent their day at SACSS creating some very beautiful birdhouses from scratch!
Our seniors and we are always excited for what's next at SACSS' Seniors Center: karaoke, salsa (or yoga!) classes, wellness talks, lunches, outings, arts and crafts, and so much more… every week! 
If you know of a senior who would be happy to join in, please feel bring them to our Seniors Center at 143 02 45th Avenue, Flushing, NY 11355, or contact us for more information at sacss@sacssny.org or (718) 321-7929.