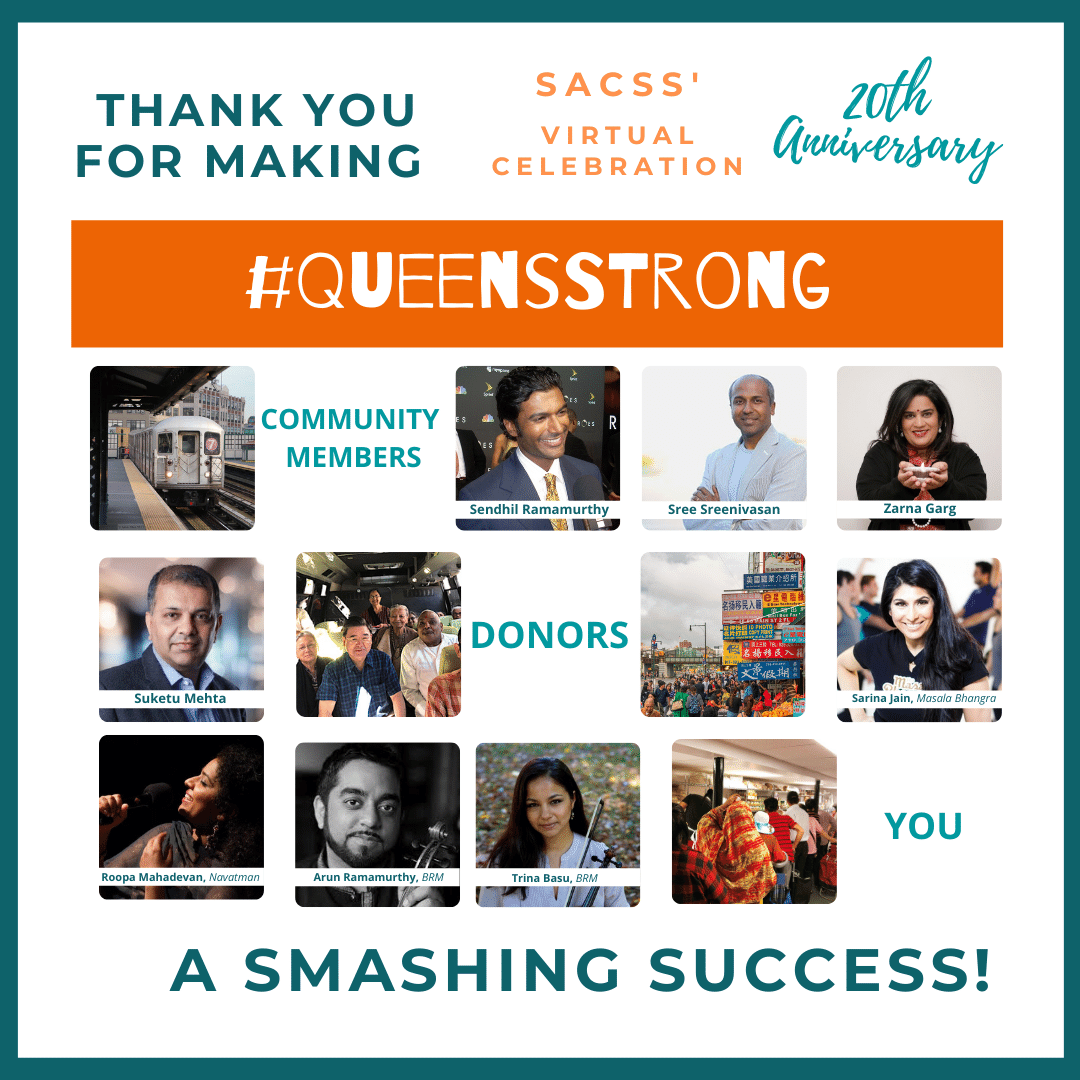 Thank you so much to everyone who supported #QueensStrong!
And thank you so much to everyone who has so generously donated in support of our work. We are truly grateful. If you missed the show, you can watch it below.
We especially thank the wonderful people who lent their time and talents to #QueensStrong:
Arun Ramamurthy, Trina Basu Ramamurthy, and Brooklyn Raga Massive
Roopa Mahadevan and the Navatman Music Collective
Sarina Jain and Masala Bhangra
Sendhil Ramamurthy
Sree Sreenivasan
Suketu Mehta, and
Zarna Garg!
A big thanks to all of the elected officials who have supported us and continue to do so:
Daniel Dromm, Council member, 25th District
Peter Koo, Council member, 20th District
Queens Borough President Sharon Lee, Queens Borough President
Grace Meng, Congresswoman, 6th District
Nily Rozic 李羅莎, New York State Assemblywoman, 25th District, and
The New York City Council for supporting SACSS Building project.
Huge thanks to our generous sponsors:
The Ramesh and Kalpana Bhatia Family Foundation
Guru Krupa Foundation
Michael Becker and Tee Scatuorchio
Flushing Bank
TV ASIA Channel.
A big thank you to GOPIO for organizing the conference in 2000, which initiated the formation of SACSS!
And finally, thank you to the Queens community, whose resilience and strength continues to amaze us. Together, we are #QueensStrong.