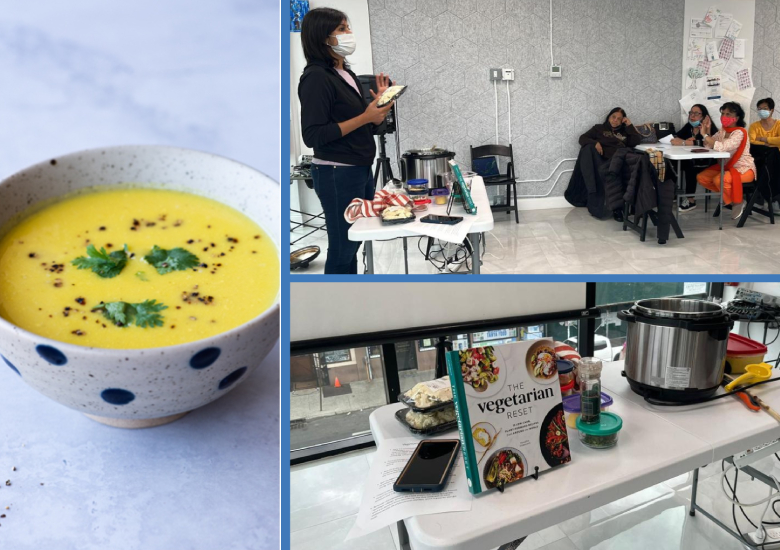 Author of The Vegetarian Reset and SACSS board member, Vasudha Viswanath, recently visited our Senior Center to share her passion for food and healthy living with our community. She demonstrated her recipe for cauliflower soup (posted below!), which our seniors thoroughly enjoyed and appreciated.
The Vegetarian Reset was selected as SACSS Book of the Month for April, and we believe it is a wonderful resource for anyone looking to explore the world of vegetarian cooking and adopt sustainable eating practices.
It features over 70 easy-to-make, healthy, and delicious vegetarian recipes and includes helpful tips on meal planning, grocery shopping, and cooking techniques. Whether you're a seasoned cook or just starting out, this book is a great resource for anyone looking to add more hearty vegetarian meals to their diet.
Thank you, Vasudha, for sharing this wonderful book, and your recipes, knowledge and passion with us!

RECIPE FOR LOADED CAULIFLOWER SOUP from The Vegetarian Reset by Vasudha Viswanath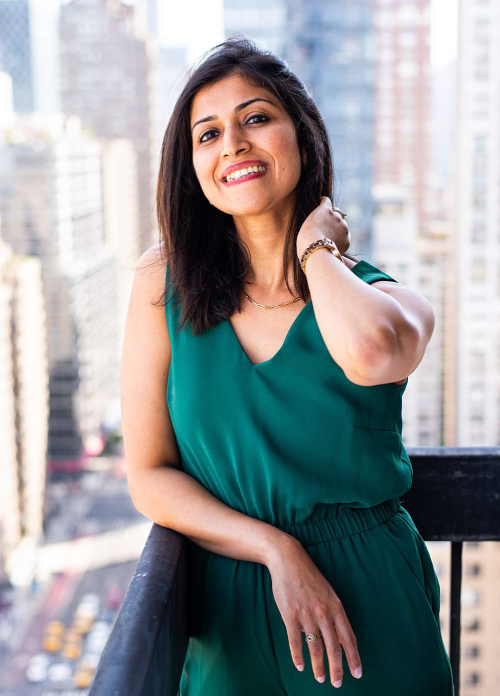 This was the first recipe I wrote down for The Vegetarian Reset.
I converted my favorite dal to a soup with a creamy cauliflower base, a kick from the green chile, and a lift from ginger and lemon. This hearty soup is loaded with nutrients from the moong dal and cashews, a breeze to make, and just so delicious. I recommend serving with a slice of Zucchini Bread (see page 14) or with Croutons (see page 109). If you have leftovers, upcycle them into Shakshuka (see page 133)!
– Vasudha Viswanath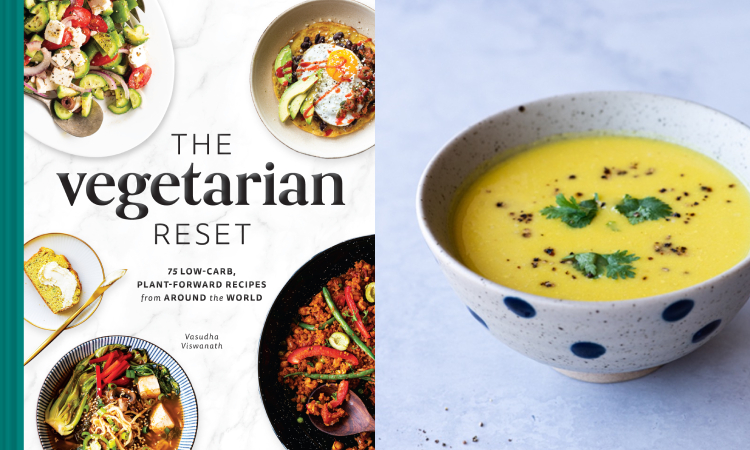 Ingredients
1 Tbsp olive oil
2 small Indian green chiles, jalapeño peppers, or Thai chiles, slit lengthwise
2 Tbsp grated ginger
1 Tbsp minced garlic
3 cups/660ml water
1 medium head cauliflower (1 lb 5 oz/600g), leaves and stem trimmed, roughly chopped
¼ cup/28g raw cashews
¼ cup/30g yellow moong dal or split red lentils, soaked for 30 minutes, rinsed and drained
1 tsp salt
½ tsp ground turmeric
2 Tbsp lemon juice
1 Tbsp chopped cilantro/fresh coriander
½ tsp cracked black pepper
Directions
Step 1. Heat the oil in a medium saucepan over medium heat. When hot, add the green chile, ginger, and garlic and sauté until fragrant, 1–2 minutes.
Step 2. Add the water, cauliflower, cashews, moong dal, salt, and turmeric and mix well.
Step 3. Bring to a boil. Reduce the heat, cover, and simmer until the lentils are fully cooked and the nuts are soft, 20–25 minutes. You can also pressure cook the mixture until done (15 minutes on high pressure, natural release in an Instant Pot).
Step 4. Blend the mixture until smooth with an immersion blender. Stir in the lemon juice, garnish with cilantro and black pepper, and serve.
Cooking Notes
Freeze any leftovers in an airtight container for up to 3 months. Defrost in the microwave or at room temperature for 4–5 hours. You may need to pulse a couple of times with an immersion blender to
fix the consistency after defrosting
Reprinted with permission from THE VEGETARIAN RESET by Vasudha Viswanath, The Collective Book Studio, January 2023.
Photo credit Alexandra Shytsman