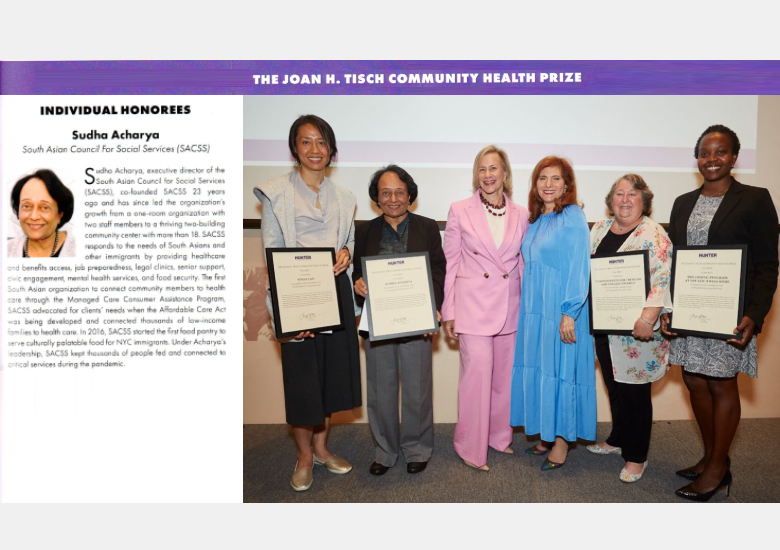 Sudha Acharya, SACSS Executive Director, was honored with the prestigious Joan H Tisch Community Health prize for 2023 at Hunter College's Roosevelt House Public Policy Institute. This prize recognizes New York City's visionary healthcare leaders who have made remarkable contributions to urban public health.
Established in 2011, the Joan H Tisch Community health prize carries a reward of $5,000 for the organization and $5,000 for the individual. This award pays tribute to the legendary humanitarian Joan H Tisch.
Under Sudha's leadership, #SACSS provides comprehensive, one-on-one guidance to community members to help them navigate the complex healthcare system and affordable coverage including Medicaid, Medicare, long-term care, among others. SACSS is also part of the NYC Health + Hospitals NYC Care program, which extends health coverage to undocumented individuals and offers a wide range of other essential health services.
Congratulations to Sudha and Yinan Lan, the Clinical Director of Street Health Outreach and Wellness/Primary Care Safety Net Clinic at Bellevue Hospital, SkillSpring Program at The New Jewish Home and VISIONS/Services for the Blind and Visually Impaired.
Thank you to Hunter College and the Roosevelt House Public Policy Institute for this honor!