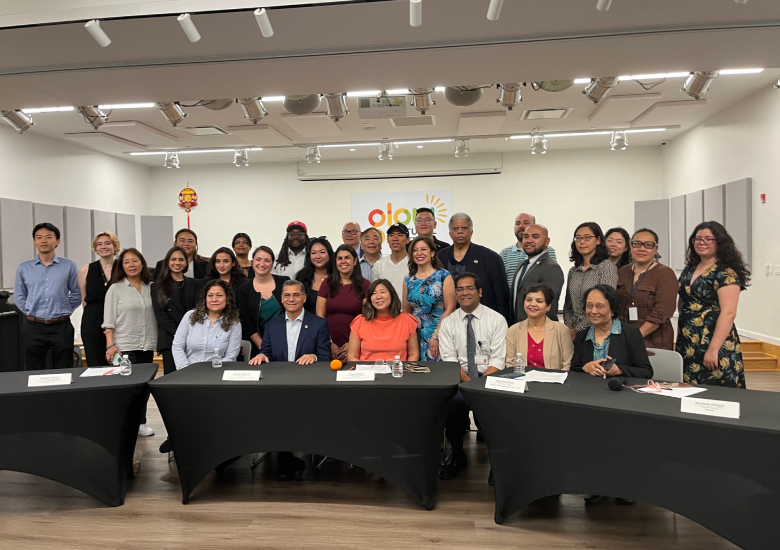 SACSS Executive Director Sudha Acharya was invited to participate in a roundtable discussion hosted by Congresswoman Grace Meng on the critical role of language access programs and healthcare in supporting immigrant communities.
The discussion brought U.S. Health and Human Services Secretary Xavier Becerra, immigration advocates from various non-profit organizations, and local community members together on June 30, 2023, at the Glow Cultural Center in Flushing, NY. The group discussed several important topics, including the effects of COVID-19 on immigrant communities, the importance of access to accurate and timely information in native language for non-English speakers, and the importance of affordable insurance and accessible healthcare for immigrants.
Health disparities and barriers to healthcare disproportionately affect immigrant populations, making it essential to expand healthcare services that are culturally competent, linguistically accessible, and sensitive to the unique needs of diverse communities.
SACSS thanks Congresswoman Grace Meng for hosting this important roundtable discussion and creating a platform to discuss the challenges and opportunities for supporting immigrant communities.
We also extend our heartfelt appreciation to all the representatives of local advocacy groups that participated in the event. Their insight and dedication to serving immigrant communities contributed to the discussion and will help us all build a more inclusive and equitable society.

Watch a full recording of the roundtable here: https://www.facebook.com/repgracemeng/videos/2003270213369114/