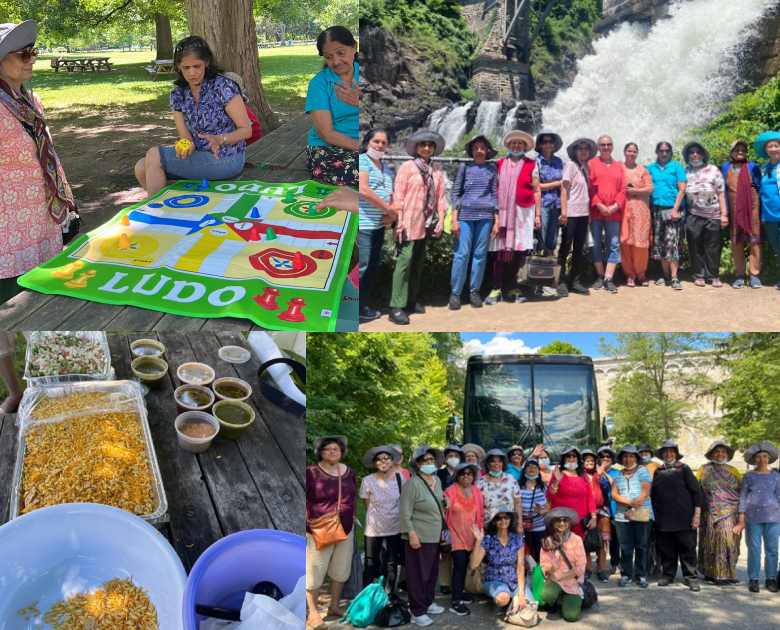 SACSS Senior Center took to the outdoors this June, with a field trip to Croton Gorge Park in Westchester. Seniors enjoyed the summer weather with a picnic feast, strolling in the verdant green fields, and playing familiar games like Ludo. Seniors got to take in stunning local sights of waterfalls and cliffs – reminding us that we're not in Flushing anymore! But whether in Flushing, or in Westchester, a favorite of our seniors is the game of Antakshari! We had a great time singing, and competing.
But maybe the most heart-warming part of the summer picnic was after it ended, and we received some notes from family members of our seniors, which included messages such as:
"I feel my mumma is safe in SACSS. Thanks"
"Thank you very much for taking mumma with you on the picnic. She had a lovely and memorable time with you all. Thanks for making her feel so comfortable. She will cherish this forever"
So glad we could enjoy a beautiful day with our seniors, and that they – and their families – loved it too! The picnic is part of our efforts to help our seniors maintain their social relationships, and stay engaged and active with vibrant activities.
We continue to monitor public health and take serious precautions for Covid-19, while striving to provide our seniors with safe and fulfilling recreational activities as social connections are one of the keys to senior health and wellness.